Emergency & Disaster Management

All cities are in one way or another vulnerable to some form of disaster. In particular, cities that are located in seismically active regions are vulnerable to earthquakes and volcanoes, while others are vulnerable to hurricanes, typhoons, floods, or tsunamis. Therefore, emergency and disaster management, which consist both of pre-emergency and post-emergency measures, are important components of maintaining safety and security.

NEC has solutions that cover the various sensors needed in gathering information on disasters and emergencies, such as surveillance cameras, water level gauges, rain gauges, and seismometers. All these data can be fed to a command centre that is able to acquire and process the data in a timely fashion. If an evacuation is needed, an announcement utilizing different communication channels can be made from the command centre, involving different agencies, such as police, fire brigade, the army, hospitals, and the like to save people's lives. This coordinated response requires inter-agency collaboration between different parts of government. NEC has a suite of solutions that facilitate such collaboration, enabling governments to swing quickly into the recovery stage following a disaster.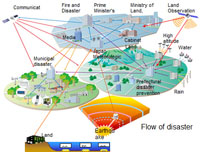 Technologies to suport New Disaster Management
Solutions
Concept of New Disaster Management Solution
Solutions
Observation
Advanced Earth Observation Satellite
Land / River / Rainfall Observation System
Ocean Bottom Observation System
Information Gathering
Disaster Management Communication Network
Data analysis & Decision-making
Earthquake & Tsunami Observation System
Disaster Information System

Announcement
Municipality Disaster Management Radio System
Public Commons System
---
Related Link
---